Trani,
Trani always called "THE APULIA'S PEARL" thanks to its history and culture maintains still today this supremacy of being the wonderful center of cultural events preserving folkloristic features making it unique. We remember the commemoration of the Saint Patron (last Saturday, Sunday and Monday of July), commemoration of the "Croce the Colonna" (3May) and so many other events coming after from week to week enriched by fascinating pyrotechnic games unique of their kind, maintaining alive the cultural and religious tradition of the city.
In the last years thanks to the intense tourist policy,
Trani has been a stage for numerous national and
international artists where a prestigious music master
such as Muti also performed in a concert at the Duomo /Cathedral. The nocturnal life of Trani, (that does not begin
before midnight ) conducts us into a tour of entertainment
premises (Bar, Pub, Pizzerias, Restaurants, DiscoClub)
enriched by the historical center , where alleys are
crowded of people flowing towards the amazed port
illuminated by the lights of the night. A tour which
ends with the first morning lights when the tradition wants
that people of the night flow in first open bars in order to taste a croissant barely taken out of the oven sipping a good cafe.
We can conclude that Trani is the complete city adapted to every
form of Tourism, from the cultural to the more unrestrained nocturnal life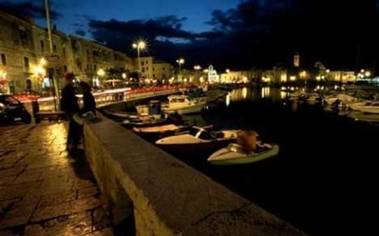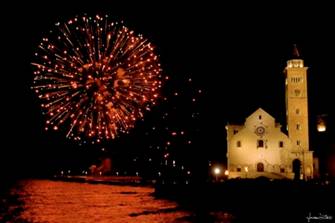 ---
bed and breakfast IL SOLE via Pisa 7 TRANI (BA) zona Colonna info-line +39 3497534008 +39 3284216647 e-mai info@bbilsole.com